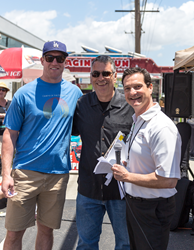 On Saturday May 21st Custom Design & Construction hosted a Home Remodeling Street Fair at its Design Center in El Segundo. A dozen product manufacturers such as Pella, Moen, Cambria, and other major companies sponsored the event. The festive atmosphere included a classic rock band, food truck and dozens of prizes. The grand prize was a kitchen remodel giveaway.
With the festivities and booths available to attendees, many also attended a number of educational remodeling seminars. The interest in the seminars matches the national trend where homeowners are now reinvesting more in their homes. "It's refreshing to see the strong demand for quality residential design and remodeling again," says Bill Simone, President of Custom Design & Construction. "Attendees love the idea that we offer design, product selection, construction, and project management with a single company," adds Simone.
The street fair attendance confirms the increased interest for residential remodeling in the South Bay. Last year, Custom Design & Construction had over 300 people attend their educational seminars. "With inspiration from Houzz and HGTV, Homeowners want to customize their homes and make it their own. More people are discovering they can have design and construction with one single company," adds Simone.
Cambria also invited LA Kings player Matt Greene who represented the Kings Cares Foundation, which has donated over $8 million in monetary and in-kind support to the local Los Angeles community. The award-winning charity of the LA Kings focuses its community outreach efforts on enhancing education, recreational and health-related program for children.
About Custom Design & Construction
Founded in 1986, Custom Design & Construction is a full service residential design build firm serving Manhattan Beach, Palos Verdes, Playa Del Rey, Marina del Rey, Redondo Beach, Torrance, Hermosa Beach, El Segundo, and the entire South Bay. The company specializes in whole house remodels, kitchens, bathrooms, room additions and new construction. They have a 2,500 sq. ft. Design Center located at 2001 E. Mariposa Ave. in El Segundo. Their projects have been featured in Time magazine, the Los Angeles Times, Women's Day, Smart Money, and many industry publications. Several have won national awards including the prestigious Chrysalis Project of the Year, The FC Remodeling Entrepreneur of the Year award, Kitchen of the Year, Bathroom of the Year, as well as numerous others. They have been named Chrysalis Remodeler of the Year, and are a three-time winner of California Remodeler of the Year, nine-time Qualified Remodeler Top 500 recipient, and Remodeling magazine Big 50 member.